Sump Pump Repair Puyallup
If you live in rainy Puyallup, sump pumps are valuable flood control systems for your home. These devices (usually found in the basement of homes) work to drain flooding out of the basement. The different types include pedestal (upright and is not meant to get wet) and submersible (installed in a sump pit and designed to function under water). 
Regularly checking the sump pump in your basement is a good way to ensure that it is working properly and prevent larger issues that can happen down the road. Some signs to look out for are overfilled water, silence, or really loud (screeching) noises. 
If you find that your sump pump isn't working properly, sometimes it takes a simple fix to make it run again. Some of the things to look out for is a deactivated float switch. The float switch may need to be moved up and down to be activated again. Or, if it contains a black sensor instead of a float switch, use a clean towel to wipe it down while filling it with water. This might activate it and cause it to continue working. Last, clean any debris inside the basin that may cause the float switch to hang up. 
If you continue to have issues with your pump, consider calling a plumber to get plumbing repair services in Puyallup and ensure that your pump lasts long.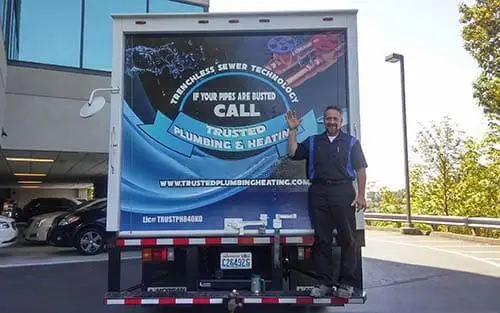 Sump Pump Replacement Puyallup
There are a few signs that your pump needs to be replaced. First, it does not turn on when it should. Second, it may cycle on and off too frequently. Third, it runs for an unusually long time. Last, as stated above, it makes abnormally loud noises. If you think it is time to replace your pump, call a plumber to get a professional's opinion and plumbing services!
Puyallup Sump Pump Repair 
One common reason that pumps stop working is loss of power. If your home is prone to power outages during thunderstorms,  investing in a backup battery installation might be a smart choice for you. These batteries take over if your power goes out. They can work up to two days, providing you additional insurance. In addition, they provide extra time to help the sump pit if it is overflowing from strong inflow. 
If you live in Puyallup and your pump is not working properly, call Trusted Plumbing and Heating. We are here to help with any installation, repair, or replacement services in Puyallup!
Trusted Plumbing will take care of your sump pump so you can face Heavy Rain worry-free.
We care about what you care about. That's why our customers call us again and again for sump pump repairs and installations. We'll give you a free cost estimate when you call so you know exactly what to expect before we even show up. Call us at 206-208-0007.