Good News! You Don't Have to Spend a lot for a Shower Installation in Seattle
You can get the shower you want with modern details and new technology at a price that fits your budget.
Are you looking at sprucing up an existing bathroom, you or a loved one has had a change in their accessibility or you are adding an additional bathroom or shower room to your home?  If you are thinking about any of those options, Trusted Plumbing and Heating has just the answer for you.
We have any and all the answers for the shower that you need to be installed.  If you are looking at making a change or adding another one to your home, give Trusted Plumbing and Heating a call for a free in-home estimate to get your customized shower installation.  We proudly serve any of the Seattle neighborhoods, as well as King and Pierce County.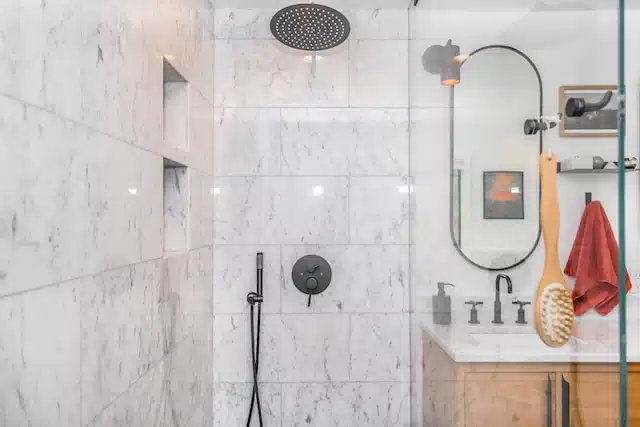 Do you know what kind of shower you want?
Homeowners have endless choices regarding the style, structure, and features of their next shower.  We can help you make the ultimate singer's lounge to belt out your favorite tunes or a quiet and relaxed place to catch your breath, relax your shoulders and calm your mind.  We can do both and everywhere in between.  There are some of the questions to think about are:
 shower-tub combo or a standalone shower?

Sliding glass or curtain?

One shower head for quick washes or several for a luxurious all-over experience?
These are important questions to remember when factoring in your budget and the amount of space you have available. Shower installation prices range widely and can cost anywhere between $1000 and $6000 when done by a professional.
Which is better, a full shower or a shower-tub combo?
That really depends on what you're hoping to gain with your new shower. There are pros and cons that come with both of these options.
Get the best of both worlds with a shower-tub combination.
Combo installations come in a bigger variety of styles, their styles are easier to update down the line if you want a refreshed look, and they add value to your home. Shower-tub combos are great for families with small children and pets where bathtime is a necessity and they save more space than a separate bath and shower. However, combos cost more to install because of more complex plumbing and they can cramp a space that is not well-suited to the style.
Save more when you choose a full shower.
Full showers are great for smaller homes and are a much safer alternative for the elderly or those with different accessibility requirements. They cost less than a combo to install and use less water but are also less attractive to future potential home buyers if your home doesn't have at least one bathtub.
Showers tend to cause more mold and mildew to grow than a tub or combo. We recommend you consider getting a bath fan installed as well if you don't already have one to prevent this growth.
Whatever you decide, Trusted Plumbing has you covered.
We provide the best customer service in Greater Seattle to homeowners who need a shower installation. See for yourself when you give us a call at 206-208-0007.