Directional Drilling Seattle
Trusted Plumbing and Heating works with other plumbing professionals and provides directional drilling services in Seattle. If your company is in the Seattle area, call us today at (206) 231-5153!  

Directional drilling is a general term that is used across multiple industries like oil, engineering, and plumbing. It essentially means non-vertical drilling and when speaking in terms of sewer or water lines installation, it is a great option. Directional drilling is perfect to use for areas that have certain obstacles, or where other methods are not appropriate. Trenchless sewer and water line technicians use innovative directional boring technologies to repair pipes that are underground. This method is called cured-in-place pipe repair, a seamless pipelining solution that involves inserting a lining into the existing pipe. A curing element is introduced that reacts with the lining to create a fully functional pipe replacement.
Directional boring equipment can be used in trenchless pipe repairs to allow for easy underground access to a desired destination such as a damaged pipeline. Because this method utilizes a drill, rather than digging up the earth, it provides great efficiency and flexibility. Directional boring is generally used for smaller diameter bores as well as  smaller sized drilling rigs. Smaller means that any excavating work will be minimal and will cause less interference and inconvenience to the home or property owner.
What are the advantages of horizontal drilling?
As a method of directional boring, horizontal drilling offers some unique advantages compared to more traditional open cut methods and underground utility installation. Here are five key benefits of directional drilling:
1. Durability
2. Faster installation
3. Cost savings
4. Less environmental disturbance
5. Flexibility
Directional Drilling Experts
There are two different types of directional drilling equipment that are used for various purposes.  
Pit shot. The first is called a pit shot, a compact directional drilling machine and it is used to install pipes that are about 4 to 6 inches wide and it is capable of drilling 150 feet per hour. It can also be used to install new pipes on a grade, making it a very adaptable and versatile tool. A pit shot can also be paired up with other tools to make it even more efficient and effective. 
Basement Buddy. The second one is called a Basement Buddy. This tool, in particular, was made to be useful in circumstances when piping under buildings needs to be repaired or replaced. In addition to this, the tool can be used to repair electrical conduits, water pipes, gas lines, and more.  
While both of these tools are capable of drilling down and fixing wide main lines or very long pipes in Seattle, the pit shot is typically used for more residential properties and the basement buddy is used more with commercial properties. Commercial properties tend to have a larger scope of work overall and usually employ the use of horizontal drilling. Both tools are used for directional boring, but the Basement Buddy is specifically used for horizontal drilling. They can also be useful to fix utilities.  
Directional and Horizontal - Drilling in Seattle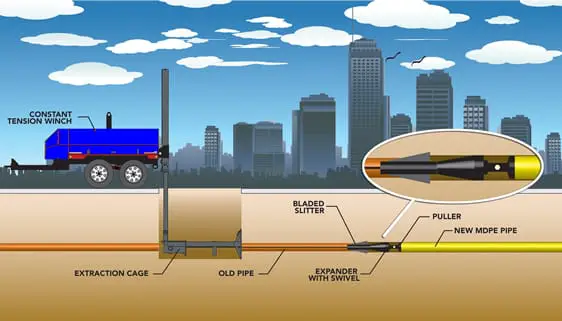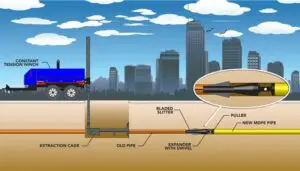 When we conduct an inspection to a Seattle home or inspection, we make a diagnosis and advice which method would be best for the particular situation. There are different piping techniques that can come in handy in certain circumstances. Some popular techniques include: 
Pipe Bursting 
Sectional point repair 
Pipe lining 
Manhole-to-manhole lining 
All of these methods are considered to be trenchless. Even though each method can come in handy in different situations, all of them have the initial directional boring process in common.  
Directional drilling equipment is used for different underground repairs and installations, including line repair and line installation. With a bore drill, a technician can easily access the damaged area and find the solution that would best fit. Due to its directional capabilities the areas in need of repair or replacement can be accessed with less invasive techniques and with minimal digging.
These are some common applications of our Directional Drilling services in Seattle or King County:
Waterlines

Sewer and Storm Drain

Power Conduit Installation

Telecommunication Installation

Driveway Sleeves

Gas Lines

Mainline Fiber Installation
How Does the Horizontal Directional Drill Work?
Directional drilling is a broad term that is used to describe any type of  boring that doesn't go down in a straight vertical line. When dealing with a vertical well in fact, it might even be necessary or preferable to deviate from a straight line in order to avoid a geological formation or a previous stuck pipe, instead of returning to the original path. This maneuvering of the driller is what we call a sidetracking technique.
During the process of conventional drilling for gas and oil, the drillstring, pipe, casing, and drill bit all go down straight in a line. Whenever the driller aims the drill away from 180-degrees down, that is directional drilling. In this day and age, the ability to preplan is more means that any directional changes of any kind along the wellbore have been carefully planned in one or more series.
It has been over 100 years since directional drilling techniques first started being used. With the technological improvements that have been made the last few decades, more and more amazing feats of engineering have been made in terms of the types of angles, turns, and underground distances that have been covered.
Why Would I Need Directional Drilling?
Directional drilling increases the efficiency of oil and gas extraction, and can also lessen the environmental impact of drilling. Although directional drilling has been used since the 1920s, modern technological improvements to the technique have increased its accuracy and safety. Better accuracy means that any trenchless rehabilitation solutions or services that we provide for you and your property will be conducted quickly and efficiently and with minimal disruption to your daily life. It also means better longevity for your home and ensures that any work that has been done is less likely to be impacted by the surrounding environment and will therefore last longer.
We provide directional drilling services to plumbing companies in the Seattle area and beyond. Call Trusted Plumbing and Heating today!