If you have a clogged drain, don't resort to dumping strongly acidic chemicals down your drain.  The de-clogging liquids are dangerous to inhale with both harmful and toxic chemicals.  Not only are they bad for you and your family to inhale but if they do cause anything to move, it is a minor improvement at best.  Those chemicals do not break down any of the sediment buildup.   Snakes are often the secondary go-to to help move or dislodge a clump of well, who knows what but yet again, it will not help with the buildup in the pipes which can cause serious damage over time to your pipes.
So far, we have told you about the harsh chemicals and the limited use of a snake but have not talked about what will help.  Our plumbing team at Trusted Plumbing and Heating is experienced in the cleaning method of hydro jetting, for residential and commercial properties. Before turning to a rental device or putting chemicals into the sewer, let our plumbing technicians use the hydro jetting technology to clear things out for you safely and effectively.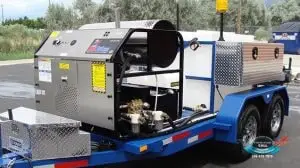 Extreme Hydro Jetting Services
What exactly is the Hot Water Hydro Jetting process? A Hydro Jetting machine works by blasting a stream of water from 80 to 200 degrees at an extremely high pressure of 1,000 to 5,000 PSI into the drain. The combination of heat and pressure can clear out just about every impacted and clogged pipe.  At 200 degrees and 5,000 PSI, no clog made of cooking fat, grease of any kind, hair, baby wipes or even roots will be able to stay in place.
However, because of the temperatures and extremely pressurized process of hydro jetting, it must be used by trained professionals so that no serious injuries occur. Our company is well equipped with trained plumbers and high jet equipment on hand, ready to provide this safe method to remove buildup.