Timely Heating Repair Service for Any Heating Appliance in Your Home
During chilly winter months, the last thing you want to deal with is a busted heater. It doesn't matter what you use to keep warm, a failing furnace or boiler spells disaster when you really need it. Sometimes, it could even spell D-A-N-G-E-R. (Do you know the warning signs?)
Whether your vents are blowing cold air or nothing at all, needing to layer up just to stay warm inside is anything but cozy. And deciding between cold-shower clean or warm but dirty is a huge drag.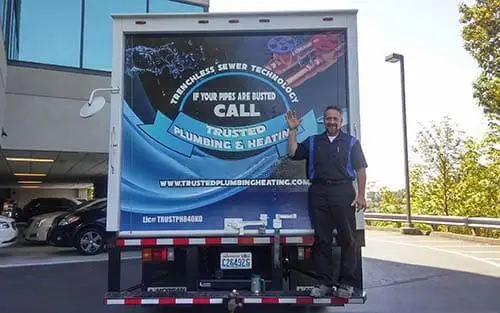 You need heat now, so we'll come through when it works for you.
At Trusted Plumbing we understand your urgency. You need heat now and you need your heating repair to be affordable. But above all, you need your heating appliance to be in dependable and safe shape as soon as possible.
While we can't always guarantee immediate availability here's what you can expect when you call us today:
Same day service.

Our customers face

heating and plumbing emergencies

every day. That's why we have specialists ready to respond the moment of your call.

On-time arrival. We know you have other things you'd rather be doing, so being on time is our number 1 priority.

Satisfaction guarantee.

Residents who call us for their

heating repair

call us again and again because our service is just that good.
Don't wait until it's unbearable to feel comfortable in your home again. You'll be relieved when your heating system is back online and you're back to enjoying the great indoors. Call us now and get your estimate in a few short minutes.