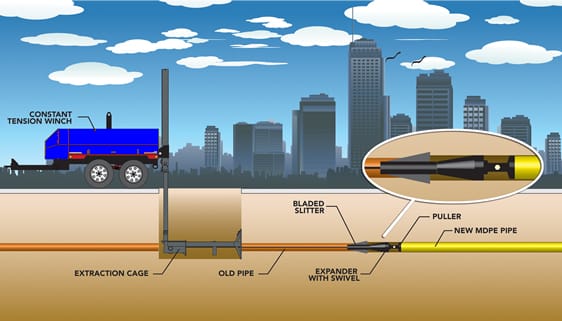 Trenchless Sewer Line Repair Services
Remember what a broken sewer line meant in times past? It meant tearing up your lawn, yard or driveway and digging up trenches just to get to the busted sewer. After the trench was covered and the sewer line replaced, you'd have to start from ground zero, planting and nurturing the grass in order to get the lawn back to where it was before the repair. If the sewer line passed underneath the driveway, it had to be rebuilt. That was taxing, not only for the one repairing the sewer, but to you and your family.
Thanks to new technology, sewer line repairs are far more efficient than they have ever been. Trenchless plumbing has opened up the door to new possibilities so people don't have to go through all of that hassle anymore.
What is trenchless sewer line repair?
This advanced technology is as efficient as it sounds. Your damaged sewer line is repaired without digging it up. Cured in Place Pipe (CIPP) is used to reline the inside of a broken sewer line. A PVC liner is blown inside the host pipe to cover the sides of the sewer line. The new seamless liner that is blown into the existing sewer line is pressurized with scalding steam so it is kept perfectly in place. It's fitted just like a second skin to the existing sewer line to give it the boost that it needs to repair the crack or leak. This instantly restores the line.
Fix a sewer line with virtually little or no digging