TRENCHLESS WATER LINE REPLACEMENT RENTON
Trenchless water line replacements are one of the best things to happen to homeowners.  Here are 10 reasons why trenchless water line replacements have advantages over the old fashion way.
Less Disruptive:  With a trenchless replacement, little to no digging is needed to perform the task.
More Accurate:  If the full water line is being replaced, the old pipe acts as a guide for where the new one will go.
Environmentally Friendly: The trenchless system generates less waste and pollution and it requires fewer materials than traditional methods.
Increased Safety: There is little needed in the way of excavation for a trenchless system if any at all.  If a hole is needed to get the technician or equipment down at the pipe level, that will be one spot that can easily be closed off rather than having a six-foot trench cut across the yard.
Faster Completion:  Taking the digging and filling out of the equation almost entirely, means that the crew is getting right to work with replacing your water line.
Less Noise: Traditional methods of water line replacement involve some kind of digging; whether is it by hand with a shovel or a bobcat.  In either case, there will be a lot of noise without this step.
Better Water Quality: Depending on where you live, your pipes can be old and filled with sediment or other dangerous minerals.
Improved Durability: Depending on the method needed for your home, the piping commonly used for water line replacement can be harder to break or crack than PVC, Copper, or even old black iron.
Cost Effective:  First thing to come off is the labor for digging a trench.  Depending on the length of the trench needed, you could easily be saving hundreds to thousands of dollars alone.  Not only that, a smaller crew is used to perform the replacement.
Reduced Risk of Property Damage: The trenchless replacement system uses your old pipes as a guide to putting the new ones in.  Even if you are increasing the size of your water line, there is a greatly reduced chance of hitting another underground line, pipe, or electrical wire.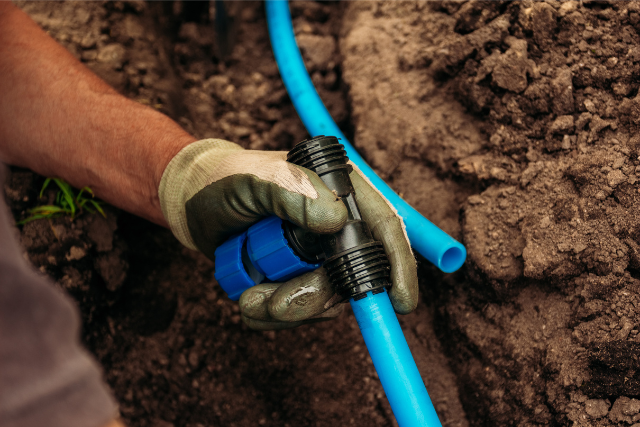 Trenchless Water Line Plumbing Renton
If you live in Renton or anywhere in King County, here are 10 reasons why you should look into trenchless water line replacement:
1.  Aging Infrastructure:  Renton is a beautiful city.  But there are some parts of it that are older and could need replacing soon.
2.  Improved Water Quality: With the older pipes, there can be build ups of minerals and even rust.  Replacing the main waterline running into your home will instatly improve the quailty of water.
3.  Environmenal Regulations: Renton has some of the strictist environemental policy in western Washington.  Being able to preform a less impactful replacement  will mean that there is a great chance to get done.
4.  Prevention of Further Issues: Trenchless methods can prevent future issues with your waterline that saves the homeowner money.
5.  Reduced Property Damage:  Without have to cut trenches into the yard, garden or even driveway, there should be mininal negative impact to your yard.
6.  Cost-effective: A smaller scope of work means a smaller bill.
7.  Emergency Repairs: If you have a problem and need the work done fast, there is no quicker way than a trenchless system.
8.  Residental Area: A huge chunk of Renton is filled with aparments, condo and houses.  With such a crisscross of piping and wire, there is less chance for colleteral damage from something getting cut or disconnected while the trench is being dug.
9.  Increased Property Value: Upgrading your homes water line can increase its value and it can appeal to prospective buyers.
19.  Busy Roads and Sidewalks:  Renton has a great community.  We are proud to be apart of the community and we strive to help keep it safe.  Not having four or five trucks clogging up a side road or sidewalk just makes the place a little bit safe.
Water Line Replacement Renton
If you are having any trouble with your water main line or sewage lines, do yourself and your home a favor and call Trusted Plumbing & Heating so we can go over any and all your questions about the trenchless replacement system and how your home can benefit.