Negative leakage occurs when a state water system sells more water than is pumped. According to the Washington State Department of Health, negative leakage happens each year to about 6 to 8% of Washington water systems. A leak is the number one cause for excess water usage in Tacoma homes. Homeowners risk seeing their Tacoma utility bills skyrocket if leaks are not detected early on. If left unattended, the damage to your property and to your wallet could be detrimental. Each year, the average household can waste more than 9,400 gallons of water. Homes use the same amount for approximately 300 loads of laundry. That's a lot of socks!
A lot can cause a leak such as clogged lines, broken seals, pipe corrosion, and underground damage or intrusion. Repeated heavy rainfall over the years can lead to deteriorating pipes, especially in Tacoma homes. The possibilities of what could cause a leak are endless when you really sit down to think about it. A major leak can also show up in your sewer system and seemingly overnight. While home or business owners should be wary of sewer system leaks in general, it can be particularly hazardous if potentially harmful gasses such as hydrogen sulfide and methane gasses are released. Leaking sewer systems can also lead to illness if unwanted germs or contaminants enter your home. These contaminants could easily cause harm if they come into contact with food and are accidentally eaten. Trusted Plumbing & Heating works to protect Tacoma homeowners and their homes from dangerous leak issues.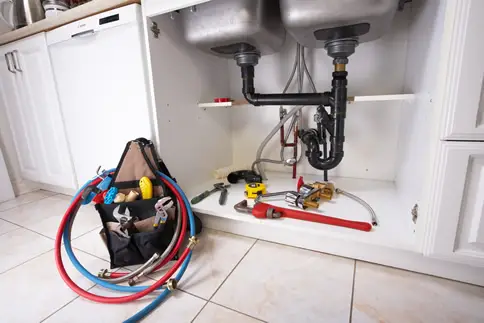 Frequently Asked Questions
Trusted Plumbing wants to make sure you don't break the bank even for emergencies. Our basic starting charge can be applied to whatever work we do for your home. However, our minimum cost for diagnostics in Tacoma is $50.05. Please give us a call for more info about leak detection at (206) 231-5008 so we can help you get started.
We try and it make out the same day you schedule service, and we have locations near Tacoma that make it easier to get to you. Whether you're near Point Defiance, the Museum of Glass, or Chambers Bay Golf Course, give us a call at (206)-231-5008 to check our availability. We service all neighborhoods in Tacoma including Skyline, Browns Point, and Hilltop.
Yes, our technicians are equipped and ready for all plumbing work. Our team is made up of experts with extensive knowledge of leak detection and most or all other plumber services. Give us a call at 206-231-5008 so we can schedule an appointment and have one of our technicians visit you.