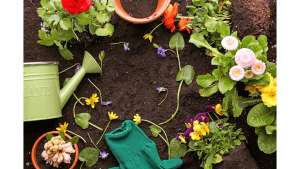 Summer is almost here and with the arrival of longer days and warmer weather, West Seattle is bustling with community events and activities. One of the season's premier events is the West Seattle Garden Tour, an annual tour of local gardens that showcases the labor of love and dedication that West Seattleites show for their home gardens. The West Seattle Garden Tour has been ongoing since 1995 and not only does this all volunteer event feature stunning and unique gardens, it also donates the proceeds to other non-profit organizations who share the same mission of promoting horticultural education and interests. The event is on June 25, 2023 from 9am-5pm and tickets are still available!
If you are interested in taking part in this local event next summer, now is the time to start planning and preparing. The first step to maintaining a vibrant, healthy and luscious garden is by making sure your yard and your plumbing system are in excellent shape. When you think of gardens, your immediate thought does not go to your home or properties plumbing system. In actuality, the two often go hand in hand. Having a plumbing system that is well maintained and in good repair means that there is less of a chance of water or sewage leaks ruining all of your hard work. Here are some plumbing issues that you should be aware of when starting a garden.
Burst pipes can lead to overwatering
Water is a necessity for a growing garden, but too much of it can damage root growth or even destroy your progress before your garden is established. A leaky or a burst pipe can also over saturate the soil in your garden with water which can lead to moldy plants, root rot, and foul odors. If you notice any of these problems in your garden, it might be a sign of an active leak in your plumbing lines.
Sewer lines are designed to safely transport sewage to the proper disposal sites. They are supposed to keep waste and other contaminants out of your home and yard, but if a sewer line is damaged and begins to leak underground, the effects can be detrimental to the health of your garden. Contaminated water can cause bacteria and mold to grow on your plants and in the soil. Plant life won't last very long in this type of environment and because the leak is underground, it might be too late before you notice anything.
To prevent these plumbing mishaps from ruining a perfectly good garden, Trusted Plumbing & Heating recommends that you have your water and sewer lines checked routinely and schedule regular maintenance. If you are ready to start your own West Seattle garden, give us a call today to come out and inspect your plumbing, you won't be sorry!