Be Confident in Your Sewer Line with a Sewer Scope Inspection
When building or buying a home it's just as important to check what lies underground as it is to examine its foundation. Older sewer lines made from metal are prone to damage that can't be seen above ground.  By attaching a camera to the end, a sewer scope can detect cracks, ruptures from roots, or sewer line offsets that might cause problems in the future.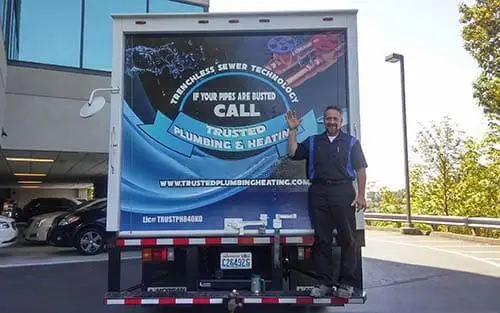 What are the benefits of sewer scope inspection?
Most homeowners choose sewer scope inspection because it gives them peace of mind. Here are just some of the benefits you will reap if you have one of our plumbers perform one at your home.  
There's no digging

. Plumbers used to have to dig around the entire sewer line to find any damage. With sewer scope technology you will know exactly where the damage is without having to dig up your lawn.

 

You know what you're dealing with ahead of time.

Knowing what kind of shape your sewer line is in will allow you to make better maintenance decisions and prevent sewer-related problems from arising later on. Trusted Plumbing uses advanced sewer scope technology so you can be confident you have all the information you need.

 

There's a decreased chance of having to pay for costly repairs.

While your city is responsible for maintaining the main sewer line that runs down your street or through your neighborhood, it's your responsibility to make sure the line running from your home to the main is in top shape. If your sewer line runs under a busy city street, not knowing if there's a problem could potentially cost your thousands of dollars.
In addition to the benefits you just read, many find that the costs of not getting one are far higher than the few hundred it takes to have an inspection done.
Call Trusted Plumbing for Your Sewer Scope Inspection
Learn more about how Trusted Plumbing can inspect or repair your sewer line by contacting us today.